There are plenty of brands in the robot vacuum market.
ECOVACS is one of reputable, trusted company providing smart home robotics and devices with 20 years of experiences. Their robot vacuums and mops are available in over 60 countries globally.
If you want to purchase one robotic cleaner for your home, ECOVACS products are worth considering. The hard thing is choosing the most suitable one for your needs because the brand comes with a variety of ranges.
So, talking about ECOVACS, which robot vacuum is best?
Take a look in the following…
Top 7 ECOVACS Robot Vacuums Worth a Purchase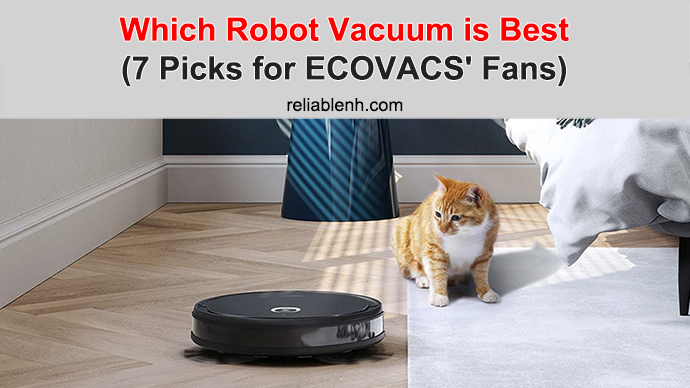 Let's have a look at the options below to make a decision for which ECOVACS Deebot vacuum you should buy for your home:
1. ECOVACS Deebot Ozmo T8 AIVI
The first pick in this list is the Deebot T8 AIVI model.
Using smart detection technology, it can vacuum and mop at the same time. While performing the cleaning schedule, this robot mop avoids carpets (if any) as well as doubles the suction power. What I really like about Deebot Ozmo T8 is that it has precision laser mapping for a deep cleaning.
Featuring intelligent object recognition, the robotic helper can avoid getting stuck and any collision. In addition, it comes with a built-in pet cam; plus, on-demand videos allow users to watch footages of your house from afar.
Detailed reviews for ECOVACS Deebot T8 AIVI
This ECOVACS' battery lasts for 3 hours. Your robot cleaner will run back to the docking station automatically once it's out of power. Wi-Fi connected, it can be navigated via Alexa or Google Assistant.
2. ECOVACS Deebot N79S
If you look for a more affordable option, then our choice is Deebot N79S.
This robotic cleaner is suitable for any household on a budget and having small houses. With the N79S model, ECOVACS features the so-called Smart Motion technology helping it move compatibly on all kinds of surfaces. For advanced protection, the N79S model is equipped with anti-drop and anti-collision sensors.
It's possible to control the unit using ECOVACS Smart app instead of a remote. You can do everything on the phone, from setting up schedules to receiving updates.
See also: Deebot N79 troubleshooting
3. ECOVACS Deebot 901
Here comes the Deebot model with great features.
ECOVACS Deebot 901 is probably my favorite in the list. It comes with two basic colors (black and white) and a compact design. At a great budget, it's quite impressive for offering intelligent mapping functionality. As mentioned, there are plenty of features to give you the best cleaning experience, such as scheduling, 3-stage cleaning system, and virtual boundaries.
You can make use of the Edge and Spot modes available to make the robot vacuum focus on particular areas that you want. There are two interchangeable suction inlets helping the unit work well on the carpet and other surfaces.
Connected to Alexa and Google Assistant, Deebot 901 can give its owner real-time voice reports about the process.
Also read: BEST Roomba for hardwood floors
4. ECOVACS Deebot M80 Pro
In case your house is large, then ECOVACS Deebot M80 Pro will satisfy you.
This robotic cleaner is ideally designed for areas having larger space. It has a huge dustbin and enables to vacuum and mop simultaneously. Thanks to a 5-stage customizable cleaning system, the M80 Pro model can sweep, lift, vacuum, mop, and dry in one single schedule.
Offering at a lower price compared to others, it lacks voice assistant integration. But no worry, you still can set up cleaning tasks for your little helper every day making use of ECOVACS Home app.
5. ECOVACS Deebot Ozmo 920
This one works as a robot mop as well.
The Deebot Ozmo 920 is the upgraded version of Deebot 901. Adding the mopping capacity to the system, it now can vacuum and mop at the same time, making consumers' home fresher and cleaner. You can adjust the water level of mopping using ECOVACS Home app.
You're afraid of the carpets? Well, this robot mop features carpet detection which prevents it from encounter carpets in your house when performing the task.
ECOVACS' Smart Navi 3.0 can create up to three different maps by using the laser technology to make sure the robot vacuum doesn't miss any place. The battery life for this one lasts up to 110 minutes. So, Deebot Ozmo 920 is ideal for multi-level apartments.
It works compatibly with all Alexa and Google Assistant devices.
6. ECOVACS Deebot 711
Want something low profile?
I recommend you to have a look at Deebot 711.
About features, this unit comes with a high-efficiency filter, filter net, and sponge. The performance capacity is pretty good thanks to the smart navigation and infrared anti-collision sensor. However, many may not pay attention to it at first because Deebot 711 has a low profile design with the height of 3.2 inches.
But trust me – this model gives you an incredible performance despite its simplicity. By activating the Max mode, the suction power will increase two times stronger to remove all the stubborn messes.
It takes Deebot 711 about 130 minutes for the cleaning; once running out of power, it will return the dock station for a recharge.
7. ECOVACS Deebot Ozmo 610
The last pick on the list is the dry and wet vacuum called Deebot Ozmo 610.
Similar to some products above, the Ozmo 610 model is also a vacuum and mop combination working with any Alexa and Google Assistant devices. It has app controls and a high-efficiency filter helping the controlling and cleaning task easier.
Nevertheless, e-maps and virtual boundaries are not available here. Don't be disappointed because Ozmo 610's cleaning modes are pretty useful and able to eliminate any spot, edge, and auto. Depending on the power level selected, it can mop in different durations: 100 minutes, 160 minutes, or 200 minutes.
The Bottom Line
In short, which robot vacuum is best with ECOVACS edition?
This article has come up with many choices that could fit any of your preference and demand. Keep in mind that the more you pay the more features you get. But, if you're on a tight budget, it's complete fine to go with a pick with lower price.
Don't buy more than your need.
For more information, leave your comments below.