Should I buy Ecovac Deebot N79S?
Is this robotic vacuum cleaner worth your investment?
Amongst all, Deebot N79S is one of affordable models coming with an attractive appearance and great operation capacity, in general. There are some handy elements (such as the remote control and Alexa support) making it convenient; however, this cleaning machine still has some downsides.
The overall performance as well as features is pretty good if all you need is just a budget robovac vacuum with average cleaning power. It performs well on carpets and hard floors.
Keep reading to get more details!
Brief Look at Ecovac Deebot N79S Review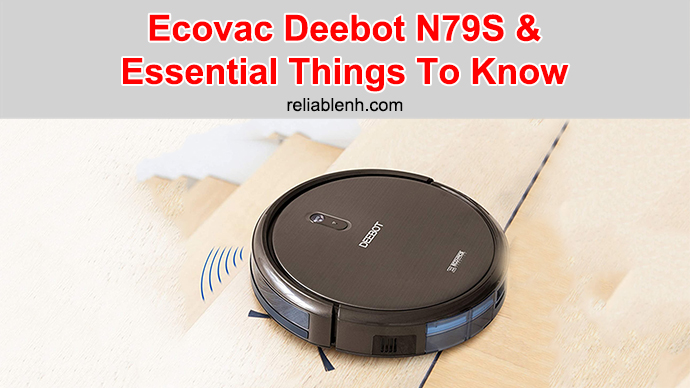 After the extreme success of Deebot N79, consumers' expectation for the follow-up product is high. That's a challenge and a competition for Ecovacs! Luckily, the N79S model also becomes a best-seller in its own right.
As promised, this robotic vacuum makes your cleaning process much easier than ever with Alexa connectivity. Just simply say words and the cleaning bot will complete the task on your behalf.
Also read: Best ECOVACS robot mop for your home
2 years ago, Deebot N79S has successfully gained a slot in the list of 2018 best robot vacuums.
What makes it stand out?
Aside from features also found in the previous model (anti-collision and drop sensors, smartphone app controls, and smart motion navigation), it does have unique traits, i.e. the vacuum's smart compatibility with Google Assistant and Alexa.
The N79S will be on its cleaning mode as soon as hearing your voice command.
There are many things I like about this model, so let's find out below:
1. Features and Performance
Unlike other typical robot vacuums, the N79S from Ecovac can carry out two tasks at once: cleaning and mopping. Very convenient, you can control and navigate it either using the remote manually or via the Ecovac app.
Compared to the Ozmo 930 version, Deebot N79S is more basic; therefore, its price is more affordable. Though it mainly does normal cleaning, this robovac model still scores well for its performance on both carpeted floor and hard floor.
However, you may feel a bit disappointed with how it works in other areas.
The downside of this machine is that it takes much time in finding an obstacle. Instead of moving up and down your floor methodically, it keeps bouncing around aimlessly like a ball.
Some cleaning modes available for experiencing include edge clean, spot clean and max mode. By using the installed app, consumers can ask the N79S model to move from here to there like navigating a toy car. This is a great way to spot dirty parts effortlessly!
The sensors work pretty well here; for example, they stop the machine from falling off from the stairs. Nonetheless, sometimes your N79S gets stuck by a desk or a chair ahead even though the space around is spacious, and you have to remove the obstacles physically.
From my experience, it may skip and bobble over the carpet without being caused by anything.
Overall, Deebot N79S delivers a good cleaning performance but I believe it could be better. When performing in normal mode, it has no problem with picking up loose dirt yet is kind of struggling with objects embedded into floors or carpets. This, plus troubles from the sensors, means the robovac can leave some areas unclean.
Read review for Deebot M80 if you are also struggling with it!
2. Design and Build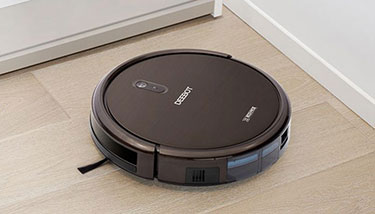 When it comes to the design, the N79S model has a classic look. It's like a huge ice hockey puck at the first glance: round, flat, and coated with dark finish. Well, the appearance of this robotic vacuum is similar to the premium Ozmo 930, except it has no traffic control on the top.
Featuring a master power switch on the side, this Deebot device is easy and simple to use. There's an AUTO button with LEDs on top of it, in addition. You'll find its dust compartment, which is the Ecovac Ozmo 930's water reservoir, at the back of the cleaning bot.
See also: BEST cordless vacuums to buy
Of course when purchasing the N79S, the whole package will include a docking station for your robot to dock and charge after running out of power. You will get a remote control to make the navigation easily or, more convenient, take advantage of the voice command with Amazon Alexa support.
What's more in the box?
There are two rotating brushes and a main brush which you need to attach underneath the robotic vacuum cleaner. Don't place your cleaning bot and the dock in a tight or small space; instead, you should find a room with plenty of space for both as they need to access everywhere freely.
3. Price
Today, you can grab one Deebot N79S at a cheap price ranging between $150 and $300 at any online market. Normally, its normal selling price is not over $250, so don't miss out such an awesome deal.
As I mentioned above, controlling this cleaning device is no longer difficult as it now has the assistance from the remote, Ecovac Home app, Alexa, and Google Assistant. Thanks to the short form, Ecovac Deebot N79S can clean dirt and dust under furniture; moreover, you can make use of Max Mode to increase the cleaning suction for extra cleans.
The robot vacuum here offer 3-stage cleaning system to help you pick up debris effectively, plus some specialized modes like Edge and Spot can bring the cleanliness to all the areas and edges of your house.
For anyone interested, the N79S model bundled with Echo Dot is available on Amazon for less than $180 today.
I must say that Deebot N79S really had an incredible debut on the Amazon market – at first, it was on sale with a nominal $300 list price and then had an average $225 price as a discount. With the deal price lower than $200 in today, the sibling of the N79 manual model will be a perfect holiday present for many homes.
Pros and Cons of Ecovac Deebot N79S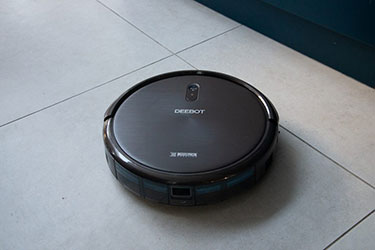 This robot vacuum has many advanced features such as voice control which eases and smoothes your cleaning process more than 2 times compared to other products.
Guess what?
You hardly find this feature in any robotic cleaner offering the same price as the Deebot N79S model. Just that reason alone makes it worth your investment if you're seeking a compact cleaning machine with a reasonable budget.
As the price tag offers, it is considered an industrious and relatively quiet cleaner.
In my opinion, the N79S indeed meets the standard of a basic robotic vacuum, so undoubtedly it can enter the list of best budget robot vacuums.
More than 1,000 pascals of cleaning power, this cleaning machine promises strong suction throughout the process. Offering 4 different cleaning modes, it can bring out the purity on various surfaces:
Auto mode is for general cleaning
Edge mode is for hard to reach corners
Spot mode is for tough stains
Single Room is for cleaning one specific room at a time
What I Like

What I Don't Like

Pick up large debris on carpet and hard floors well
Remove pet hair effectively
Voice control
Offer mop attachment

Ineffectively edge cleaning
Poor performance on picking up dust
The movement is not methodical
Side arms flick particles
Dust easily spills out from the dust cannister
In this review, I gladly gave Ecovac Deebot N79S 4 stars out of 5.
Our Verdict
Generally speaking, Ecovac Deebot N79S is an ideal option for families whose homes are heavily carpeted and have pets. Easy to use and affordable, this robot vacuum will surely meet your basic standards. It can pick up crumbs and large particles on hard floors with no difficulty.
Though its performance may not reach the excellent level, it guarantees to remove and clean about 95-98% of the dirt, leaving your space fresh and sanitary.
If you're stressed out with all the pet hair, then no need to worry since the N79S machine also does a brilliant job in getting rid of pet hair. It ensures to remove the pet hair, only fine fibres remaining.
What I really don't impress about this model is that it didn't pick up dust on carpet efficiently. Furthermore, it struggles a lot with cleaning the whole room – the side arms keep brushing debris into corners.
In short, all I can say about Deebot N79S is that it has a periodic way of approach to cleaning. Not only bounced off the walls, but it also got stuck frequently and had a hard time cleaning edges.
Additionally, you may feel frustrated when emptying the dust canister because the opening as well as the clasp gets loose after a short time using.
This product is perfect for those preferring light cleaning.