Are you having trouble with your Roomba?
Get tips to deal with your roomba issues.
Compared to other cleaning robots, Roomba robotic vacuums for small apartment offer the cleaning with the most convenience and comfort.

However, they may encounter with some problems at times, such as running out of battery power.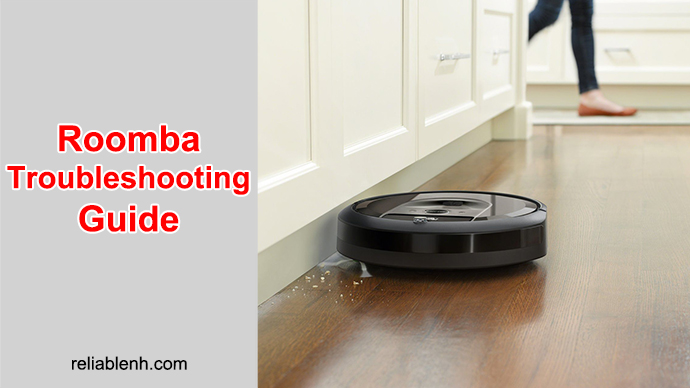 Of course they require frequent maintenance to extend the life span.
If you want to give your Roomba the best care, then make sure you see all the error numbers or listen to the beeps as that let you know what you should do for your Roomba needs.
In this Roomba troubleshooting guide, I'm going to discuss some issues often happening to the Roomba vacuum and give tips to deal with them.
Let's have a look!
How Do You Get the Roomba to Dock?
You find your Roomba not docking?
Find reasons your roomba wont dock.
For those who don't know, the Roomba is a vacuuming robot. Therefore, it will return to the home base to dock itself once the cleaning cycle is over or it runs out of battery. When it docks itself, the system also starts recharging.
Surely you can manually send your robot home so that it can dock itself if prefer. This means you don't have to wait for the cleaning cycle to be over or until the battery gets low.
The issue here is: your Roomba just won't dock!
Or much worse, some find that their Roomba dies before docking.
Is there any way to fix it and how?
I must say this is a common issue with the Roomba 650, and the common reasons could be because of:
Debris on the Roomba sensors underneath the unit
Bad or no continuity of the Roomba sensors
The docking station pins do not operate correctly
You can fix these problems, but it's just temporarily.
In case your Roomba is out of the warranty period, you are recommended to give it a temporary fix to verify the issue first and then quickly purchase a new docking station for the replacement.
Most docking stations aren't really cheap; nonetheless, it's much better than buying a brand-new Roomba as well as more reliable than a temporary fix. Note that adding tape or paper in the docking station will lead to a potential fire threat.
How Do I Reset My Roomba?
Actually, resetting the software in your Roomba robot is quite simple.
Hold down the two buttons marked 'DOCK' and 'SPOT' simultaneously. You can find them located on either side of the 'CLEAN' button. Press and count to ten and then simply release them.
You will hear the 'beep' sound meaning the system will be reset. The progress will remove all scheduled cleaning times and resolve some problems relating to the software.
When you need to give Roomba battery reset?
If you see the dock light flashes, this means your Roomba's power is getting low and needs to return to its charging station. However, as I said above, sometimes your robotic vacuum cannot find the docking station.
Or after a long time using, you may notice the time for charging becomes longer while the device quickly runs out of power.
Those signs let you know your Roomba robot's battery needs a reset.
Initially, you have to charge the unit as fully as possible
Press the 'CLEAN' button to turn the Roomba unit on; next, press and hold down both the 'DOCK' and 'SPOT' buttons until you see the dim light from 'CLEAN' button
The robot will chirp to indicate it's been reset
Plug your robot into the charger until the 'CLEAN' button turns green
Continue charging the Roomba throughout 3 days, and the progress should not be interrupted
Put the robot to work to drain out of its power so that you can do the battery reset again
If the run times do not improve, then you may want to buy a new Roomba battery.
How Many Years Does a Roomba Battery Last?
If you keep it properly, then the battery life expectancy for this robotic vacuum cleaner will increase.
I've been using iRobot Roomba for almost 2 years and it still works like a new one, just incredible. So personally I think the life expectancy of a Roomba battery would last more than 5 years.
For the long-term storage of a Roomba battery, you must remove it from your robot and put in a cool, dry place. Significantly, only store Roomba batteries after giving them a fully charge. In order to use the Roomba again, simply insert the battery and charge the device 100%.
Also, get the answer for why my Roomba won't charge!
How to Tell If Roomba is Charging?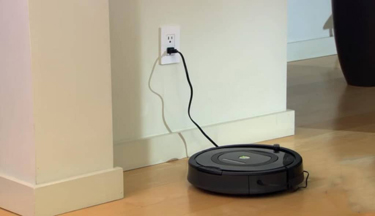 As you already know, your Roomba robovac uses a rechargeable battery which lasts for hundreds of cleaning cycles for the operation. Give it the right maintenance for a longer lifespan, and the key is to recharge the battery after every cleaning session.
You know a Roomba is charging if the solid green light is displayed on the charger whenever you plug it into an on-wall outlet.
Nonetheless, what if your current model charges through a Home Base?
It's completely normal for the unit's light indicator goes off while charging through the Home Base, and also you'll find no light indicator on the Home Base itself. The answer for this issue is because both the robotic cleaner and the Home Base must converse energy during the charging process.
After the robot vacuum has docked, the power button on the Home Base will turn green within 4 seconds and then go out. Meanwhile, the tiny cleaning machine's charging light will also show the green color once being connected to the Home Base; similarly, it will extinguish after a minute.
So, how to tell if Roomba is charging?
Press CLEAN on the unit.
The green power indicator means your robovac is fully charged.
The amber color is a sign of still charging.
When the light turns red, it could be a symptom of drained battery and you should charge it instantly.
Below is a video guiding on how to charge and maintain the battery for Roomba 700 and 800 series:
If you're using the 900 series, then the most convenient way to solve this issue is to download the iRobot app. All the status of the Roomba batter will be displayed on the screen giving you the ideal time to perform a cleaning cycle.
Why is Roomba Not Connecting to Wifi?
Turn on the iRobot HOME app and suddenly you see the message: "There was a problem connecting to Roomba. Sorry. Please entry."
Is this your first time encountering this type of matter? You found your Roomba not connecting to wifi and are in need of a solution for this trouble? No need to worry as we're going to tell you how to solve this!
Make sure you follow these simple steps accurately:
Place both the Home Base and your robovac in somewhere specifically having excellent wifi coverage.
See if the wifi indicator on the robot vacuum turns green or not; then, follow the instructions on the iRobot app to reform the connection between your phone and the robot wifi network.
The tutorials are written steps by steps; thus, all you need is to stick to it in order to complete the wifi setup process.
In case you're unable to find your robot cleaner in the available network, try to reboot both the Roomba and router, close the app, and start the wifi setup course over again.
What if the problem persists?
Then I recommend you to have a check on the wifi setting of your router and make sure it's compatible with the whole setup process.
How Often Do You Empty a Roomba?
It's advisable that you should empty your Roomba after every cleaning session, according to iRobot makers. In addition, you're also suggested to rinse the dustbin with warm water and let it air dry.
The first thing to do is to perform the bin removal from your robovac body.
Most of Roomba models have the dustbin attaching to a receptacle located from the back of the machine. Undock the robot from its charging station initially. Simply push down the release tab and pull the bin towards you in order to remove it.
With newer models, the dustbin has the center-mounted design which means the consumers can easily unravel it directly out of the top of the vacuum without disconnecting it from the Home Base.
For example, Roomba S9+ is now equipped with this style of bin for more advanced convenience.
To lengthen the lifespan of a Roomba robotic cleaner, it's a must to take dustbin maintenance to the next level. Even Roomba S9+ and Roomba i7+ are packed with the Clean Base allowing both to empty themselves once in 2-3 days. The dirt will be stored in a disposable bag that can hold up to 30 dustbins full of debris and can be cleaned up in a snap.
In general, you should empty the bin as often as possible and do not forget to clean the air filter as well.
How to Get Roomba to Clean Whole House?
Ideally, you expect the iRobot Roomba to sweep and clean everywhere of your house; nevertheless, there are a couple of obstacles that might prevent it from reaching the perfection.
Like this robovac is not designed to move up and down the stairs, for instance, and it can only climb up at the height of 0.8 in. So, it's impossible for the machine to give the cleaning to each room if your apartment is multi-level.
Fortunately, here are some tips you can try out in case you want to gain the most out of the robotic vacuum cleaner:
1. Black carpets
Want your black carpet to be cleaned?
Well, then you need to turn off the cliff sensors on the robot vacuum. Make sure your home has no stairs or any sunken area within reach before doing this. Or, you can make use of the virtual walls to prevent your Roomba from reaching such places.
2. Edge cleaning
Not many people know but the Roomba does have a nifty feature which you should take advantage of to clean up all the edges of doors, stairs, and walls in your house. This feature guarantees that no part will be left with dirt and debris.
In order to utilize this function, you need to turn on and log in the iRobot HOME app; then, access the Preferences section.
3. Remain tip-top condition
You should give your Roomba the maintenance once per week. It's necessary to clean out any entangled fur or dust stuck in the dustbin – using a soft brush included in the package to brush it off. Otherwise, the robot vacuum's cleaning capacity will be drain and soon damaged.
​
Offer the unit a deep clean each month. The iRobot makers suggest you opening the spiral brushes and bearings using the screwdriver; you should clean everything trapped in there.
Remember to replace filters and brushes every three months.
4. Furniture rearrangement
It's essential to consider furniture arrangement if you want more space for the Roomba to move, access, and clean easier. Move something like stools and sofas if you find your robovac having a hard time to displace here and there.
This is the essential tip especially if your apartment has very low clearance.
Before planning to purchase a Roomba, always be certain about sparing some space for it to move around or to get it to flush to the walls.
5. Fix the cable mess
Did you know that cables are one of reasons avoiding your Roomba from accessing all areas? The fact is that those cables clutter around and make it hard for the robovac to move from place to place. Much worse, they sometimes can become entangled, and because of this, the cleaning cycle usually stops out of the blue.
​The good advice in this case is to tie all of your cables together using the cable tie and put them neatly in certain places. Then, cover them with trunking as a way to keep them off the floor.
How Long Does a Roomba Take to Clean a Room?
Did you just buy a Roomba vacuum?
Well, a new Roomba will happily clean away all the dirt and debris from any where in your house within one and two hours.
If you use the machine weekly for a year or two, you will realize the battery power has been reduced – the cleaning time lasts for 30–40 minutes after two years. And, 40 minutes are not be enough for the robot to clean a single room.
That's why you must give your Roomba the maintenance constantly.
Summary
Should you get one for your home?
If you dislike vacuuming and are interested in gadgets, then the Roomba machine is definitely a choice for you.
Reliable and versatile, this well-maintained robotic vacuum cleaner will give you hours of free time and let you enjoy the comfort of your sofa because it enables to clean everywhere in one go.
If you want to keep the Roomba moving around your place for a long time, the key is to provide it proper maintenance and care.
Clean it frequently
Protect it from the stairs
Keep your Roomba close to the charger so that it can dock itself with ease
Did you enjoy this guide? Have any issue with your Roomba?
Don't mind leaving your comments below and we will soon come up with solutions that you probably find useful.