Has the situation 'Roomba not connecting to WiFi' occurred to you?
When using your Roomba vacuum, it's kind of frustrating if we receive the signal saying 'not connecting to WiFi'. These days, robotic cleaners can't just do the vacuuming and cleaning; in fact, they come with more smart features including wireless capacity to give us the most convenience.
So, if you purchase a robot vacuum without internet connection, it would be a huge disadvantage. That feature helps you control and schedule tasks for the unit via app as well as voice from your phone, Google Home, or Alexa.
Keep reading to figure out the possible causes if your Roomba can't connect to WiFi.
Why Roomba Not Connecting to WiFi?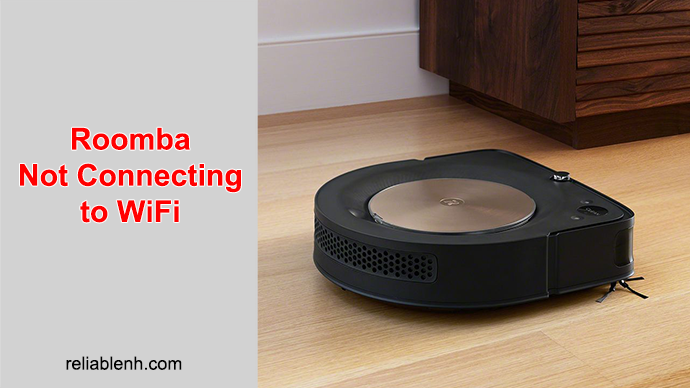 We all know Roomba can connect to the internet through iRobot Home app. If one day your Roomba WiFi connectivity encounters some problems, there are two places that you need to have a check:
The WiFi network
Roomba's firmware or internal WiFi receiver
See also: How to reboot your Roomba?
Here, I've come up with 7 most common potential issues for why your Roomba not connecting to WiFi as well as solutions for them one by one.
1. Is your device switched on?
When your Roomba gives you the signal of not connecting to WiFi, the first thing is to check to see if the smart device is switched on. According to some, their Roomba units show vague signs, so sometimes it's hard to tell whether or not they are actually switched on. Meanwhile, other devices will have a big green power light or flashing lights when turned on.
How can a Roomba vacuum connect to WiFi if it's not activated, right? Make sure to check if the docking station is connected to a wall socket, if your Roomba is fully charged, and if it's actually switched on.
Click here to find out ways to empty Shark vacuums
2. How about your WiFi network?
The next reason causing WiFi connectivity problem to your Roomba could be your WiFi network. Wi-Fi drop is a common occurrence, even if the connection inside your house is strong and fast, so no need to worry.
Before thinking that your Roomba may encounter some issues, you need to check your WiFi network and see its connection on different smart devices. If all are connecting to the internet, then the problem is from the robot vacuum. But, if you can't access to the internet on any device, your WiFi network is the cause.
Is there any signal of internet connection on any of your devices?
If not, quickly contact ISP (Internet Service Provider) and ask for the support about broadband data issues. In case your phone also shows no connection to your WiFi, have double check to see whether it's connected to your mobile carrier or there's any data bandwidth issue.
In this situation, the very first thing I usually do is to troubleshoot corrupt WiFi settings. Reset the router and change the password on the router's system. Then start connecting your Roomba and other devices to the network again.
3. Is your WiFi network too overcrowded?
Another thing to check is the bandwidth. This is a factor affecting the speed and strength of your home's internet connection. For example, if you have many WiFi-connected devices and use them all at the same time, bandwidth issues will occur. Based on my experience, it's definitely true, especially if some of your devices load data-heavy activities simultaneously, from video streaming to online gaming.
In order to solve this issue, the first thing is to access to the router settings on the computer. Then, look through the list of all the units currently connected to the WiFi network. Simply deactivate those devices which you no longer use anymore to free up the bandwidth.
Once your Roomba has more bandwidth space, its connection to WiFi will be more smoothly.
Read more: Top choices for self-emptying vacuums
4. Have you tried turning off and on your Roomba again?
Nothing can beat the effectiveness of this very familiar way. When we have to troubleshoot any digital device, I believe the first thing most of us try is to turn it off and then turn it on again. Though it seems nothing, it works most of the time.
If you've tried the 3 methods above yet all fails and your Roomba still can't connect to WiFi, I advise you to apply the 'turning off and on' method on both the wireless router and robot vacuum. About resetting the WiFi router, make sure to read the manual instructions for your router model. Different routers from different manufacturers need different rebooting methods.
How about resetting your Roomba?
Flip the unit over and unscrew the battery compartment with a screwdriver. Be careful when taking out the battery. Read more about how to replace Roomba battery! You need to leave it out for approximately 5-8 minutes; after that, again carefully install it back to the device. Screw in the compartment and turn on your Roomba.
Press the DOCK and SPOT buttons on the robot vacuum and hold for a while. Then the iRobot Home app will automatically ask you to connect to your WiFi network. The manufacturer also suggests users doing the factory reset to Roomba units if some settings get corrupted. It helps reboot the device back to its original factory settings.
5. Have you brought the home base close to WiFi router?
Another way to solve the not connecting to WiFi is to get your home base close to your WiFi rooter.
The cause could be because both your Roomba and its home base are placed in a room or any corner with poor WiFi signals. To deal with this matter, simply bring your Roomba's docking station closer to the WiFi router and check if the connection gets stronger. Shortening the distance that the WiFi signal has to travel from devices to devices will improve the connection strength and help your Roomba work better and faster.
What if it is a multi-story house?
Since WiFi signals travel better from high to low ground, the experts recommend that you should put the home base 2 ft. away from your router on the top level of the house. You can also place the router in a center location so that it can cover all internet-connected devices fairly inside the house.
In a Nutshell
If you've tried all the methods for Roomba not connecting to WiFi in this article but the unit shows no response, then contact iRobot customer service quickly (in case it's still under warranty). They can guide you how to troubleshoot the problem in detail or send you a brand-new one.
Make sure to check your house's internet connection and the router before judging the Roomba cleaner.