The technology is getting better day by day; therefore, cleaning your house is no longer a difficult task. With a large number of robot vacuums on the market, you can keep your floors spotless without lifting a finger. Capable and affordable, they are just perfect for each household.
It's better to get a robot vacuum with the multi-room mapping function. It helps create a single map showing all of your rooms, so the robot can move to the right location and do the job properly.
In this article, I've come up with 2 best robot vacuums with mapping featuring Roomba edition.
What are BEST Roomba Vacuums with Mapping Technology?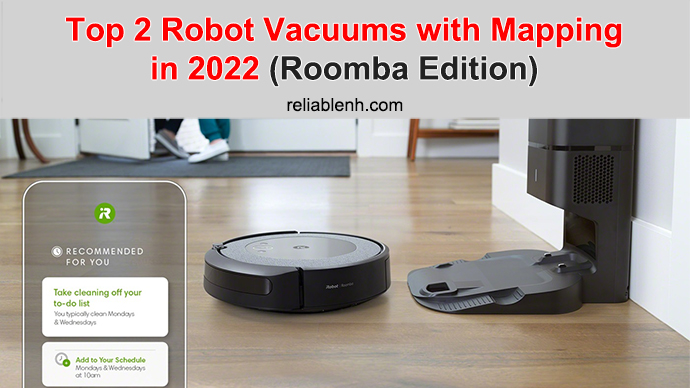 1. iRobot Roomba S9+
FYI, Roomba was the first commercially successful robotic vacuum.
When it comes to seeking the best models on the market as well as trustworthy robot vacuum brand, Roomba is the ultimate option. In case you're in need of this device with full mapping, go with the S9+. It is lightweight and can empty the dirt bin automatically and perform a fast deep cleaning thanks to the improved suction and 3-stage system.
The only downside of this model is that it's pretty expensive, so no many people can afford it. For anyone has not enough budget, you can look for a cheaper version – that's iRobot Roomba i7158. Though it lacks the auto emptying station, the full mapping functionality is available. Or, in case you want both features, then it's better to choose the i7558.
See also: 5 best robot vacuums for dog hair
2. iRobot Roomba 980
Roomba 980 is another from us. Featuring VSLAM (vision simultaneous localization and mapping) this robotic vacuum can navigate around the house and vacuum larger spaces than before in straight lines.
Have a look at the top of this Roomba and you will spot a camera. VSLAM technology can build a map while observing your own position simultaneously. How to create a map? The first thing is: the camera will take a picture; after that, the software will start processing the picture and search for distinctive patterns of pixels.
It will perform the cleaning once building up a picture-based map of the required place. Why should you buy Roomba 980? This iRobot model has added a new sensor from under to collect data which helps localize where you want to clean.
Is Roomba worth buying or not? Click here
FAQs for Mapping Robot Vacuums
1. Should you buy a robot vacuum cleaner with mapping feature?
The answer is yes! Why? Mapping robot vacuums help your cleaning process more accurately. By instantly localizing the exact rooms scheduled, your device can deliver a quicker, more efficient performance than before.
While standard robot vacuums wander around your home, it usually returns to the same paths and lacks a couple of things. Fortunately, the device having mapping technology enables to create a map of your home. Connecting to the app on your phone, you can tell exactly where your robot goes.
As a result, the robot vacuum can complete all of your cleaning missions faster. No need to keep creating them each time cleaning. The mapping vacuum can remember the map for several rooms, so you don't have to keep creating them every time cleaning the house.
2. How does a mapping robot vacuum schedule?
What I like about mapping robot vacuums is that users can set the schedule for the device to clean your rooms or any corner at different times. If you don't often use the guest room, then you don't need to clean it frequently.
In the meantime, kitchen is probably the place that you must clean up each day because of all the messy cooking. Multi-room mapping vacuums allow you to store the map for each room and later operate to your specified schedule.
3. Is mapping Roomba vacuum good for carpets?
The two Roomba vacuums that I recommended above perform well on most carpets. But, keep in mind that they can't do the cleaning on high-pile carpets. They are thick for your Roomba to climb on and move on. In case your house uses low or middle-pile carpets, then this device works just fine.
Some robot vacuums out there may do a bit better job than our choices here, but in general all are suitable for carpets.
Can mapping robot vacuums provide the same cleaning performance on the carpet as a regular vacuum cleaner?
I must say that mapping robot vacuums' suction is kind of weaker if compared to a good upright vacuum cleaner. Then are they worth buying? Why don't we just buy an upright vacuum cleaner? My answer is mapping vacuums have their own strengths and benefits that others may lack of.
You can schedule the device on daily without effortlessly just by pressing a button. Make it clean at a specific time, especially when you're not at home. Even when you frequently vacuum your floors, the dirt and debris after every cleaning schedule can surprise you.
4. Which Roomba vacuum is great for bare floors?
Robot vacuums have no problems cleaning bare floors such as laminate or hardwood. However, if you want to make your floors much cleaner, then go with Roomba J7+ as they don't have the mopping.
Final Words
I hope you like the robot vacuums with mapping suggested and discussed in today's article.
When buying a robot vacuum, look for the one that can work well on different floor types and maneuver around all kind of furniture without sending beeping sounds to help. We all can't babysit our vacuum whenever it does the cleaning, right? With this matter, you can be assured because Roomba can manage excellently on hardwood, tile, rugs, and other surfaces.
Battery is also another important factor. Consider the size of your home to choose a suitable robotic cleaner. Most of robot vacuums can run for at least 60-70 minutes which are perfect for small houses and apartments. In case you have a bigger space, then look for the device that operates at least 90 minutes.
Leave your comment below (if any)!