Roomba is the best assistant when it comes to vacuuming and cleaning duties.
Powerful, smart, and convenient, this trusted device can remove all kind of dirt in your house, empty its debris tank once full, perform tasks automatically scheduled, and send detailed reports about the cleaning via iRobot app.
Keeping a cleaning house now is no longer difficult. However, like any other machine, Roomba also sometimes encounters a couple of issues making you frustrated. Before troubleshooting any matter on the device, the very first thing is to reset it.
How to reboot Roomba?
It's best to learn about this topic today!
How Many Types of Reset for Roomba?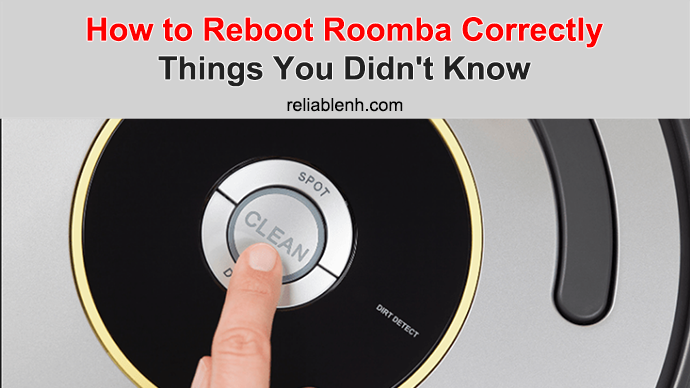 After months of using, your Roomba will probably experience a setback or two. Before doing any diagnosis on the device, it's necessary to give it a reboot.
Rebooting Roomba means you turn it off and then turn on again. For example, when you find that your Roomba not connecting to WiFi or some types of glitches occur, then the simplest way is to reboot the unit. All of the input data including logins, user preferences, and saved maps are still available after the reset, so you don't have to worry.
According to the manufacturer, there are two different types of reset for your Roomba.
See also: BEST self-emptying robot vacuums in 2022
In case the device is having some serious issues that can't be resolved by just a simple reboot, you should consider a full factory reset. This type will remove all user date from both the robot vacuum and iRobot app, returning the Roomba to its default settings when you unwrap it from the box.
Depending on each Roomba model, the process to reboot and factory reset can vary.
Find out ways to reset your Roomba in the right way:
Type 1: Rebooting your Roomba
1. For Roomba 500 & 600 series
First, have a look at your Roomba. Do you see the SPOT CLEAN and DOCK buttons? All you need is to press and then hold these two buttons for 10 seconds. If you hear a beep when releasing them, the reset is complete.
2. For Roomba 700, 800 & 900 series
With these 3 series, there is no longer the DOCK button. So, you just have to press and hold the CLEAN button for about 10 seconds. Once releasing it, you'll also hear a beep, which indicates the reboot for your Roomba has been done.
3. For Roomba S & I series
This time, you need to press and hold the CLEAN button for about 20 seconds. Now look at the light ring around the bin lid! It will display a glow white after you release the button, signaling you've successfully reset the device. Wait till the light ring stops glowing for the actual reboot process completely finishes (taking approx. 1 or 1.5 mins.)
Check more: Tips to empty Shark vacuums
Type 2: Factory resetting your Roomba
With this factory reset, there are also two types:
A soft reset can be done manually on Roomba bot itself without removing user data from the app.
A hard reset needs to be done via iRobot app and will erase all user data on both the app and cloud.
To do the hard reset, make sure both Roomba and mobile device are connected to your WiFi network. Open the iRobot Home app and go to Settings, then choose Factory Reset for the process to start. Once finishes, all saved data will be deleted.
1. Performing a soft reset…
For Roomba 600 & 800 series:
Press and hold these 3 buttons at the same time – HOME, SPOT CLEAN, and CLEAN
Wait till the Roomba makes a beep sound
Release the 3 buttons
Roomba itself will restart to complete the factory reset
For Roomba 900 series:
Press and hold the DOCK, SPOT CLEAN, and CLEAN buttons simultaneously
Wait for all the LEDs to light up
Release the 3 buttons
Roomba will then restart and finish the factory reset
For Roomba E series:
Press the HOME, SPOT CLEAN, and CLEAN buttons at the same time
Hold all 3 buttons for 20 seconds
Release them for Roomba to start the factory reset
For Roomba S & I series:
Press and hold the HOME, SPOT CLEAN, and CLEAN buttons at the same time
Wait for the white light ring around the CLEAN button to swirl
Let go of all 3 buttons
Roomba will then complete the factory reset process
2. Performing a hard reset…
Open the iRobot Home app
Check to assure your Roomba and your mobile device is connected to the same Wi-Fi network
Run to Settings for the navigation
Press Factory Reset
Roomba will restart for the factory reset to be done
When Do You Need to Factory Reset a Roomba?
If your Roomba encounters just simple issues, then you don't have to do the factory reset in the first place. For example, in case the unit can't work because of damaged batteries or not spinning brushes, it can be solved.
Only factory reset your Roomba when:
1. Your Roomba is from someone else
Put it simply, you got the robot vacuum from the previous owner.
This can happen if you purchase a secondhand Roomba or receive it from a relative. Since it's been used for a couple of times (maybe), the first thing to do is giving it a factory reset. This will erase all the memory and saved data on the Roomba and iRobot app from the previous owner.
A hard reset allows you to restart the Roomba's learning process and use it like a brand-new one.
2. The last solution when troubleshooting your Roomba
A factory reset is a feature that sends a Roomba back to its original factory settings. Put simply, it's as if the Roomba is wiped clean of its memory and is brand new. In most cases, this is done to resolve unexpected robot issues, trouble with Wi-Fi connections to your home network, or other unexplained errors.
There are many problems from Roomba that can make you frustrated, but the most common is about charging. Sometimes, after trying all the simple ways but fail, you can't help but needing to factory reset the Roomba.
Giving back its default settings is the last resort!
Final Words
That's all for the guide on how to reboot Roomba correctly!
It's a must to give your Roomba proper maintenance frequently to make it work well and last a long time. If any problem persists, contact the iRobot support team for the assistance.