Do you think you're taking good care of your Roomba? If all you did is just emptying the dustbin, then think again. In fact, there's a lot more to keeping your Roomba clean aside from the bin. Why don't you look at your robot vacuum's brushes? Don't be shocked because of all the dirt!
How to clean a Roomba?
This device has helped you a lot with the cleaning. If you want your robot to run smoothly and operate well for a long period, then it's necessary to give it routine maintenance.
In today's guide, we're going to inform you 4 primary areas that you should clean your Roomba to lengthen its lifespan.
4 Steps to Clean Your Roomba Vacuum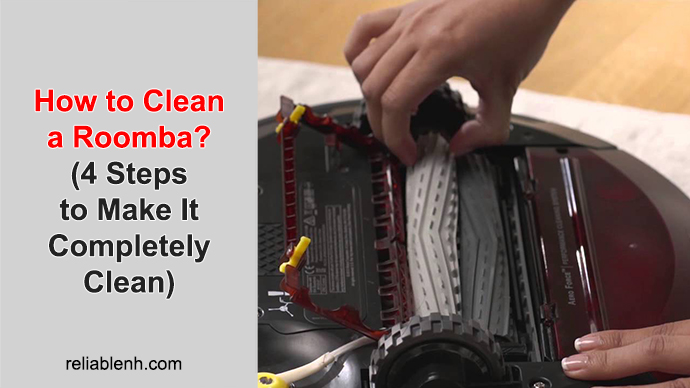 First of all, 4 primary parts of a Roomba that you must clean frequently are:
The brushes
The wheels
The sensors and charging contacts
The dust filter
Though it looks like a lot of work, the actually process won't cost you much time. In addition, you just need to give your Roomba this kind of cleaning once a week. The robot vacuum performs the cleaning every day – without proper maintenance, it will encounter issues after a short time.
See also: Best lightweight Roomba for elderly
1. Let's start with cleaning Roomba's brushes
You probably had no idea how dirty your floors were until you got yourself a robot vacuum cleaner.
My first-time experience with Roomba was shocking – I've never thought there would be so much hair on the floors of my house. I couldn't describe how speechless I was when pulling out all the hair of my Roomba's bin after every cleaning session. Most surprisingly, I don't even have pets. Find out which Roomba is the best for pet hair…
If any Roomba users are reading this article, you will totally understand this – lots of hair can get tangled in Roomba's brushes. As the device sweeps the whole house and with that much amount of hair, no wonder the brushes get dirty easily. So, after your robot finished the cleaning, quickly pull all the hair off its brushes.
Click here if your Roomba's brushes stop spinning!
2. Next, move to your Roomba's wheels
Apart from brushes, the robot vacuum's wheels are another area easily getting tangled with hair. Please note that hair is always stuck on the wheels, while the wheel wells are covered with dust and dirt.
If your Roomba performs poorly all of sudden, the first thing is to check its front caster wheels to see if they have any ring of hair wrapped around their axle. The manufacturer recommends users to clean the iRobot Roomba's wheels once per week; honestly, the task is not difficult at all.
How to remove the front wheels?
Depending on the Roomba model, the position of the front caster wheel is either in the front or center on the bottom. It pops right out easily which you can remove hair or any string attached with your hand effortlessly. At the same time, push the spring-loaded side wheels as well so that you can remove trapped hair, debris, and dirt. Then vacuum the opening where connecting with the wheels with the crevice tool.
3. Time to clean your Roomba's filter
Don't just dump the dust out of the dustbin and slide it back in your Roomba. It's not enough, you know! If you don't clean the filter often, all the dust will be accumulated and clog the operation later.
To clean Roomba's filter, you must unravel it from the device. Depending on the Roomba model that you own, it can either locate in the bin compartment or be a filter cartridge fitting in the bin itself. After many cleaning times, dust and dirt will pile up and create thick layers on the filter. If users don't clean it regularly, then your Roomba will gradually become inefficient at vacuuming up debris.
No need to worry, cleaning your Roomba's filter is quite easy.
Keep in mind that you just have to remember to do it once a week or so.
4. Lastly, clean Roomba's cliff sensors and charging contacts
Have you ever spotted that your Roomba suddenly stops and starts and keeps repeating like that as if it's cruising around your floor? If yes, then are you curious about the reason causing such that strange behavior?
The possibility is your Roomba's cliff sensors are covered in dust. When that occurs, the robot will probably think that it's about to tumble down the stairs. As a result, it comes up with all the cautious stopping and starting.
When Roomba robot vacuum gets a sense of it being on the verge of fall down from somewhere high, this is a sign that many layers of dust are stuck in its cliff sensors.
What if the behavior still happens after you clean cliff sensors?
Another possible issue is its charging contacts are possible coated in grime. In this case, users should clean Roomba's cliff sensors and charging contacts using a piece of soft cloth and melamine foam.
Just follow these steps and you can effectively clean your Roomba.
In Conclusion
So, how to clean a Roomba?
By vacuuming the brushes, then cleaning the brushes, the wheels, the sensors and charging contacts, and finally the dust filter, you can improve the quality of your Roomba's cleaning as well as extend its life.
Moreover, when cleaning your Roomba seriously, it will help you prevent yourself from getting allergies and provide much fresher air to your house. If you have pets, then it will also clean out allergens coming from their fur. To those allergic to dust, it's a must to keep your robot always clean. If you leave dust piling up in these Roomba areas, molds and bacteria will appear and affect your health.
Give it frequent maintenance and it can keep cleaning for you; also don't forget to replace these components regularly, especially filters.
For more information about this, please leave your comment below.