These days, Roomba has become our cleaning assistants. The more we rely on these robot vacuums, the more smart features they provide. Keeping up with our demands, Roomba allows us to schedule cleanings when we're not at home, control them using voice commands, as well as set spaces that you want to clean.
However, things will get trickier if there are carpets and rugs laying around your house. On the market, plenty of robot vacuums are confused and hardly transit from hardwood floors to carpets.
So, does Roomba work on carpet?
Let's see if your Roomba makes your life easier or turns into a trouble every time getting stuck in weird places as well as from transitions between different platforms.
Is Roomba a Good Choice for Homes with Carpet?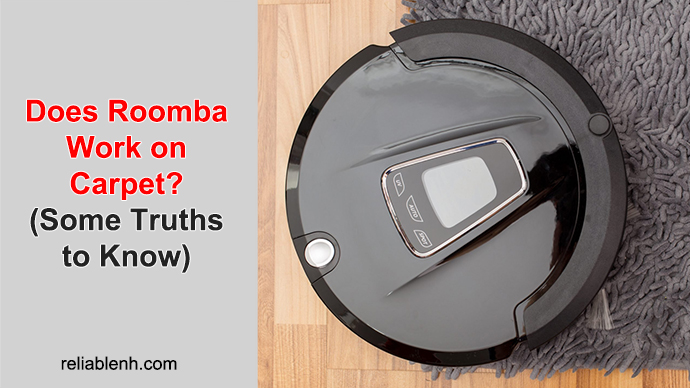 Our homes don't have just one type of flooring, undoubtedly. Probably you have wood for your kitchen, carpet for your living room and bedroom, tile and linoleum for other spaces, and several rugs laying here and there. But, what is the enemy of most robotic vacuums with mapping?
Yup, the answer is none other than the carpet!
You might be wondering whether or not you should get a Roomba for your house if your floors are mainly carpet. Fortunately, robot vacuum cleaners from this brand operate incredibly well on all types of floors, including hardwood and carpet. They can transition smoothly from one surface to the next and remove all the messes on any platform every day.
See also: How to empty Roomba?
See the sensors on your Roomba bottom?
They will give the signal as soon as the vacuum moves to another surface and (if needed) change the suction. Despite keeping your house clean on a daily basis, Roomba is not powerful enough for a serious deep carpet cleaning.
In addition, another restriction of this vacuum is the stairs – Roomba has the cliff sensors helping it stop immediately and make a turn when seeing a drop-off.
Pros and Cons of Getting a Roomba
1. Pros
Here are some common pros of owning Roomba vacuum:
This little device does the cleaning quickly as soon as being activated.
Your Roomba can sense when a particular room or area is not fully cleaned yet and make sure to tackle it.
You can still leave the unit when leaving the house after setting the cleaning schedule – it will automatically move to the dock station when in need of charging and then perform the task again.
It has cliff sensors telling them where borders are.
Roomba eliminates unwanted dust and debris stuck on your carpet, helping extend its life.
One thing for sure is that Roomba comes with a lot of benefits; however, like any other things in this world, it also has some unfortunate downsides.
2. Cons
Let's check out some well-known cons of owning a Roomba:
Roomba sensors are seemingly finicky some times; for example, if it's too dark to recognize a certain object, the device will likely ignore to do the cleaning on it – this often happens to the carpet.
It can't sense anything too small, low areas, and clothes; that's why you should remove those electrical cables and clothes, or they will slow down the operation process of the Roomba.
If your carpet or rug is old, chances are the robot vacuum can ruin it (e.g. causing spotty patches and loosening fibers).
This unit only eliminates things on the surface level while deep cleaning is unavailable.
Click to know how to clean your Roomba the right way!
Will a Roomba Ruin Your Carpet?
The answer is no, and probably yes!
As Roomba is a robot vacuum, its main purpose is (of course) vacuuming. Before making a purchase, you should research well about the surfaces that it deals with. Normally, some popular floor types easily found in our houses are hardwood, tile, rugs, and carpets.
Well, as you can see, carpets are also on the list; the problem is that it might not be completely safe from this harmless vacuum.
We recommend you to go with a new light colored carpet for your home in order to avoid the possible harm.
Why the color is a matter here?
The reason is because of the sensors aforementioned above. If your Roomba thinks your carpet is a ledge or barrier, it will move away and not clean your carpet at all. You may think that how it can be damaging, but what is the point of owning a robot vacuum when it can't clean the carpet?
Roomba could also ruin your carpet if it comes with loose, deep fibers. Old carpets and rugs usually look frayed and fluffy as they fall apart at the fibers. When this happens, tell yourself that it's time to change to a new carpet. But, the lifespan of your carpet will be shortened with Roomba. The cleaning process unintentionally tears apart every fiber, making the carpet older after each schedule.
Overall, Roomba won't ruin your carpet because it's generally okay with most of them. However, depending on the type of carpet, its color and age, you might want to do careful research before purchasing one.
How Does Roomba Perform on Your Carpet?
In short, Roomba still enables to work on carpets as it features iRobot's 3-Stage Cleaning System.
When the device is moving on carpet, you'll see its dual brush rollers rotating in opposite directions. These motions will agitate all the dirt stuck in the carpet fibers; then, the suction will be activated for vacuuming. The debris will be gathered in the Roomba dustbin.
Roomba vacuums are lightweight and can operate on high and low pile carpets. Depending on the height of your home carpet, the dual brush rollers will adjust either up or down.
In Conclusion
So, does Roomba work on carpet?
The best answer to this question is yes, but (like I said) it depends on many factors including your home.
If you want to buy a Roomba that works perfectly on carpet, then the best option is the S9+ model. It comes with superior cleaning technology and enables to vacuum corners better than other Roombas. The only downside is its expensive price!