Wondering what is the best lightweight vacuum cleaner for elderly?
Vacuuming is never a fun task; especially when we get older, it will become more tired. Fortunately, thanks to a strong development in vacuum technology, there are many kinds of vacuum cleaners available on the market to help us with this chore. Lots of people nowadays invest their money to get a robot vacuum.
Personally, I think robot vacuums are a perfect option for the elderly as well as anyone who can't use a regular vacuum. I hope today's article will show you why a robotic cleaner is a smart purchase.
Keep reading…
My Ultimate Choice is…iRobot Roomba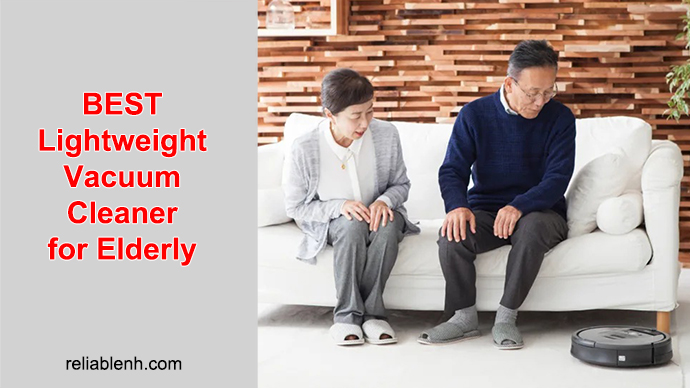 Why are Roombas great to people aging in place? These are high performers that require low maintenance. We've tested some of the best Roomba models including:
The J7+ – Having incredible navigation
The I7+ – The previous edition of the J7+
The I6+ – Offering powerful performance and self-emptying bin
The I3+ – Having the most affordable deal
The I8+ – Offering a long battery life
See also: How to clean a Roomba?
To some elderly who are not expert in tech and look for a low maintenance cleaner, these options are the most suitable.
Roombas are always my favorite choice when it comes to choosing a robot vacuum. Firstly, these models can self empty, which means you don't need to touch the dirt after each time cleaning. They enable to empty themselves into a self-sealing bag which can hold the debris up to 60 days.
Though you never see, smell, or touch anything unpleasant when using Roomba, I recommend you to clean the bin after 30 days for better. With the assistance of this convenient device and the self-emptying feature, you barely have to get your hands dirty removing dirt after the cleaning time.
Of all picks above, the elderly should consider the J7+. Many users claim that this model has incredible navigation – with the forward-facing cameras and machine learning technology, Roomba can avoid all kinds of items in the house, such as pet poop, power cords, etc. It can suck up debris powerfully. After finishing the cleaning schedule, the robot will return to the charging dock automatically instead of becoming a tripping hazard.
If you're seeking a lightweight vacuum cleaner for your parents, grandparents, or anyone who is technology averse, Roomba is the #1 choice. Once they purchase it, you need to help them a couple of times to gain the most benefits of the Roomba unit.
Read more about using your Roomba on carpet efficiently!
To control it, all you need is a smartphone.
Another amazing feature is that you can edit your cleaning routines. For example, in case you don't want your robot to clean the same area every day, you can schedule a set-it-and-forget-it routine.
With other models, you can take advantage of the iRobot Genius smart platform as well.
Once connecting Roomba to the WiFi, you can schedule and set routines for your smart device. Areas where you need to clean are called Clean Zones; for example, the location under the couch or kitchen table can be labeled on the smart map. If you have any area not wanting your Roomba to enter, you can design that as well.
Integrate the smart locks of your home into Roomba's programming so that it will return to the charging base when you go out.
Benefits of Having a Roomba for Elderly
How much can a Roomba robot vacuum help elderly people?
Have a look at these perks:
Vacuums need to be carried to do the task, while robot vacuums work on their own
Extremely lightweight and easy to store
Schedule the cleaning tasks beforehand in case you forget
An ideal choice for the elderly having arthritis or other physical pains
The chores now can be done automatically and fast
Freely enjoy shows on the TV or engage in other activities while the robot vacuum is working
It's hard to move furniture when you get older, but this Roomba robot can clean under any furniture that you want
Getting a robot vacuum is more convenient than hiring a maid
This robot behaves like a pet
If you don't have a robot vacuum yet, it's time to purchase one.
Why is a Roomba Robot Perfect for Elderly?
1. Very lightweight
How much does a robot vacuum weight?
If buying a vacuum cleaner for an elderly person, weight is a significant matter. Choosing a heavy vacuum giving them a more difficult time when doing chores – imagine them dragging the bulky vacuum around the house, it's definitely tired and exhausting. Not to mention if their house has stairs, accidents could happen.
It's better to go with a lightweight vacuum. Thought hand vacuums are light to carry around, but they're designed for spot cleaning, not for a whole room. Therefore, the best solution is a robot vacuum. From now on, the elderly in your family don't have to bring it here and there for the cleaning; instead, just a simple control on the app and the robot will take care of all the floors.
2. Easy to use
Apart from the lightweight factor, an ideal robot vacuum cleaner for elderly people must be easy to use. Most of them are not experts in modern technology, so they prefer a unit with simple settings and not be too complicated.
Showing them a vacuum cleaner with a lot of features just make them flustered. A Roomba robot enables to operate on its own. All you need is just giving it an initial setup which is very easy to do. This smart device will do the work itself; meanwhile, you and your loved one can enjoy something else or simply relax.
Final Thoughts
So, in my opinion, the best lightweight vacuum cleaner for elderly is Roomba robots.
Rest your hands as this robotic vacuum will fulfill all your needs. Lightweight and easy to use, it's known for being the best option for elderly people. Get this useful device for your home and you'll feel like your life is more enjoyable and convenient.
If you want to know more information about robotic vacuums, check out this site and also left your questions.