Robot vacuums are now a must to most households.
In this modern day, these smart devices are a great support to our cleaning, making it easier and more convenient. Instead of cleaning your house after going back from work, you can relax with the help of the robot vacuum.
When it comes to purchasing a robotic vacuum cleaner, people often think about Roomba. This company is reliable; however, new customers can be confused with the variety of their models. Especially if you have hardwood floors, you need a machine to not only keep them clean but also protect them from damages and scratches.
What is the best Roomba for hardwood floors?
Learn more in the following…
List of 5 Top Roomba for Hardwood Floors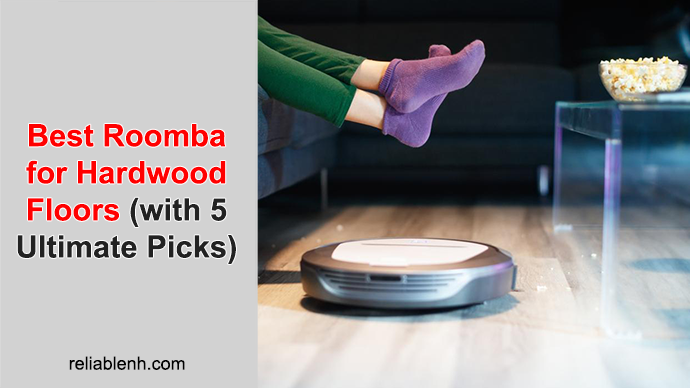 Roomba comes with only high-quality products.
So, today let's join us in this article to find out what Roomba vacuums work well with houses having hardwood floors.
Also read: Which robot vacuum is best?
1. Roomba i7+ 7750 for automated cleaning
Highlights:
A docking station for easy recharging
Allergy safe dust containers
Keep-out zones
Debris can be held up to 60 days
Customized smart maps are available
In case you plan to buy a robot vacuum and money is not a problem, then the most ideal option is iRobot Roomba i7+. Considered as the best of the best, it's definitely worth your consideration.
With powerful suction, this robot vacuum works well on hardwood floors. The whole pick-up performance is enhanced if compared to previous models. There are three stages in the cleaning system guaranteeing to remove any kind of dirt (pet hair, food crumbs, allergens, etc.)
The i7+ 7750 model can create intelligent maps and remember multiple floors as well. Since Roomba respects your privacy, this unit has a feature allowing you to set up areas of your home where you want it to not access.
The dust bin can empty itself and hold debris up to 60 days.
See also: How to reboot Roomba correctly?
2. Roomba 960 with smart assistant
Highlights:
The suction is 5 times powerful than others
Capture and lock 99% of allergens
Simple to control
Patented iAdapt technology + vSlam navigation
Filters work excellently
Another model from iRobot that I really like is Roomba 960.
If comparing it to older series like Roomba 600, the suction power is 5 times stronger to make sure the robot vacuum can clean away all the dirt. Thanks to iAdapt 2.0 technology and vSlam navigation, Roomba 960 can draw smart maps allowing it to recognize every corner of your home later.
Same as the i7+, this one also has three stages of cleaning system that helps to spot and pick up any debris on the floor absolutely.
It comes with a dual rubber brush that is compatible with all kinds of surface. Like how it works on carpets, Roomba 960 can flex and perform excellently on your hardwood floors. In case you find some debris at the time Roomba is recharging, remove them away with a broom first and wait for the device to give your home a deep cleaning.
You can connect Roomba 960 to the Internet.
3. Roomba 891 with a great design
Highlights:
Dual rubber brushes compatible with various surfaces
Dust bin can store up to 0.62L
Schedule tasks via app
Know and handle high-traffic floors well
If your home doesn't have pets, then Roomba 891 is an ultimate choice.
Similar to other recommendations above, this unit also has a premium three stage cleaning system which helps to suck all the debris. Equipped with an auto-adjust cleaning head, it works perfectly on various types of floors. In addition, it has a patented dirt detector sensors allowing Roomba 891 to access the required areas correctly.
The greatest part of it is that you can schedule tasks via iRobot Home app instead of using the remote. This robot vacuum works compatibly with both Alexa and Google Assistant.
The cleaning process done by Roomba 960 takes 90 minutes; if your house is bigger, then it will take longer. Once finished working, it will go back to the docking station for the charging.
4. Roomba s9+ 9550 with great docking station
Highlights:
Anti-allergen system
Powerful suction up to 40 times
Automatically empty the dirt and hold it for 60 days
Perfect Edge technology + corner brush
Keep out zone
Many claim that this is one of the best Roomba robots.
Personally I think the i7+ model is better and this one is one step behind. It knows how to empty its dust bin automatically, plus having great sensors and filters. With a unique design, it can cope with debris stuck in corners easily. Overall, this Roomba is worth your investment.
Check how to give Roomba filters maintenance
The sensors help Roomba s9+ create house maps in a smart and fast way. It scans the surroundings ahead for 25 times per second to avoid colliding possible obstacles that could appear suddenly. According to the manufacturer, this model can learn and adapt to new territories.
You can also customize which rooms you want it to clean and which rooms it should stay away. Lastly, the feature making it stand out from others is its capacity to work along with iRobot Braava Jet M6 – one vacuums and one mops. With this combination, your home will always be fresh and clean.
However, the price is pretty high.
5. Roomba E5 5150 for allergenics
Highlights:
Exclusive dual multiple surface
High-efficiency filter
Full suite of updated sensors
Three stage cleaning system
Affordable price
If you are an allergenic, the E5 5150 model is a suitable option.
Its suction power is incredible with 5 times better than Roomba 600 series. Aside from allergens, this robot vacuum is also good at picking up pet hair scattered in the house. Roomba offers the three stage cleaning system as well as dual rubber brush to help the model move smoothly on different surfaces.
With amazing sensors, your little helper can move around the house and collect debris underneath and from hard-to-reach corners. It works straightly up to 90 minutes and charges at the dock automatically.
Final Words
That's all for the best Roomba for hardwood floors.
If you ask about my top pick from the list, the answer is Roomba i7+. Personally I think it's the only model that works properly without the need of supervision. But, we all have our own preferences and demands. I hope you can choose a good robot vacuum for your home through the article here.
For more info, leave your comments below.