Kids just love tablets.
They can do a lot of things and have fun with them, from playing games to watching videos, and more. If you want to get your little one a tablet of their own, I highly recommend LeapFrog tablet for toddlers.
This is a great child-friendly tablet series that will keep your toddlers entertained, and it's also a great educational tool.
In this article, let's have a look at learning tablets for kids from LeapFrog.
Overview of 4 LeapFrog Learning Tablets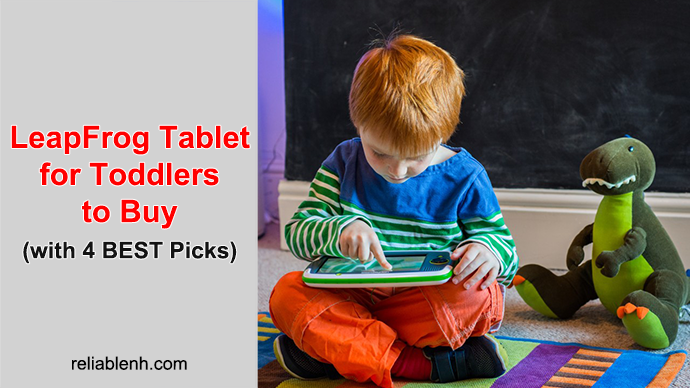 Mike Wood, the founder of LeapFrog, claimed that these are perfect tablets for children. Offered with affordable prices, they feature a variety of educator-approved learning content helping kids learn to read and think outside the box. Parents won't mind at all when their little ones get their hands on these tablets.
Don't worry if your children are older because they are designed for kids of all ages: toddlers, preschoolers, and a bit older.
1. LeapPad Academy
LeapPad Academy is a good choice for toddlers and kids aging 3-8 years.
Highlights:
A package of learning content (20 apps)
Customizable home screen
Parent controls
A free 3-month trial of LeapFrog Academy online program
This learning tablet can prepare your child for school and beyond. Including more than 20 educator-approved apps about different topics, youngsters can learn from reading to writing, math to coding, and problem solving skills to creativity. As a great companion, LeapPad Academy helps kids develop their out-of-the-box thinking.
The tablet comes with a tough bumper, plus a 7-inch shatter-safe screen and built-in kickstand. It also features extensive parent controls allowing parents to set play time limits and add more content from LeapFrog app center.
2. LeapPad Ultimate Ready for School
This is an ideal choice for kindergarteners and preschoolers (3-6 years old).
Highlights:
Powerful processor for lightning-fast fun
Personalized learning features
Shatter-safe screen and built-in bumper for durability
Affordable price
If you're looking for a tablet for your toddler or preschooler, why don't you go with this smart choice. Totally worth of investment, it's packed with over 1000 learning games, eBooks, videos, and apps helping kids develop core school skills, social skills, and creativity.
This tablet is built with LeapFrog powerful quad-core processor. In addition, the learning technology called 'Just for Me' allows kids to select games and adjust their own learning levels.
This tablet in pink color is now available, so you can purchase one for your princess.
3. LeapFrog Epic
Here comes LeapFrog Epic Android Based Tablet for children from 3-9 years old.
Highlights:
Tons of great, popular Android apps
A big collection of games, videos, eBooks, music, apps, etc.
A shatter-safe LCD screen and protective bumper
Kid-friendly web LeapSearch for safe content
Robust parent controls
This tablet is the winner of Kidscreen Awards 2017. Totally worth the title, LeapFrog Epic has a unique design with the aim of becoming your child's best friend, helping them enjoy learning and playing simultaneously.
Kids are invited to a virtual world of their own where they can create, imagine, play, and explore everything. Fun surprises are waiting for them every day. Not only toddlers and preschoolers, but kids a bit older can also use this tablet – Just for Me Learning technology allows them to personalize and adjust games or apps based on their ages.
Moreover, parents can manage the time and content on their kids' tablet using the parent controls feature.
4. LeapFrog Epic Academy
Make the learning of your child an incredible adventure with LeapFrog Epic Academic.
Highlights:
Learning library with plenty of games, videos, app and music
Rechargeable battery that lasts over 7 hours
2MP camera on the front and back of the tablet
Parent controls
This tablet guarantees to give kids an experience that grows with them. Designed for youngsters aging 3-6 years, it's a new interactive learning program guiding your little one on various skills in a fun, exciting way. In case they want to explore more, LeapFrog Academic also offers a kid-safe web browser full of educational content.
You will find hundreds of learning games, videos, eBooks, app, and so on which play big roles in the development of a child. Featuring their favorite characters, your toddler will get excited when having a companion for their learning journey.
This tablet has a kid-touch design with a shatter-safe screen and energy-absorbing bumper. It also has the camera from both sides so that your child can take photos whenever they want.
It offers a reasonable price on the market.
Are LeapFrog Learning Tablets Easy to Set up?
Overall, these tablets can be set up easily. The thing is that it requires some personal details about your child (name, date of birth, etc.), but some parents don't really want to share.
Once purchasing LeapFrog tablet or LeapPad, you will find the paper instructions in the package. Plus, there is also one diagram showing you different buttons and slots on the tablet.
The installation process takes about 20 minutes, in general.
Here is my side note, in case you don't know: LeapFrog App Center is not included in the tablet package. If you want to get more educational apps and activities for your kids, they are sold separately, but they do offer 3-month free trial.
Summery
So, that's all for LeapFrog tablet for toddlers!
Personally I think getting one LeapFrog tablet for your little one is a good investment. The interactive learning unit here helps develop kids' basic skills in an exciting way making them think outside the box, discover new knowledge, and more creative.
Since it's kid-tough and thoroughly drop-tested, you can rest assured about their durability. This good-quality tablet will provide hours of entertainment. In case you worry about your toddler spending too much time with it, LeapFrog offers the parent controls feature allowing you to adjust their playing time.
I would recommend these tablets.
Pick one suitable for your child, especially if they keep asking for your tablet.