Vacuum cleaners undoubtedly help our home-cleaning time easier and more convenient. However, the key to keep this unit working for a long time is regular maintenance. If you are using a Dyson vacuum for your house or have just bought it recently, then this article is for you.
How to clean Dyson vacuum the right way?
Is there anything strange coming from your Dyson vacuum these days? Is the suction getting weak all of sudden? Before thinking about purchasing a certain replacement part, give the device a thorough cleaning!
I know some of us may feel lazy about this task; however, cleaning your vacuum on a daily basis is critical, especially if you expect optimal efficiency from it.
7 Easy Steps to Clean Your Dyson Vacuum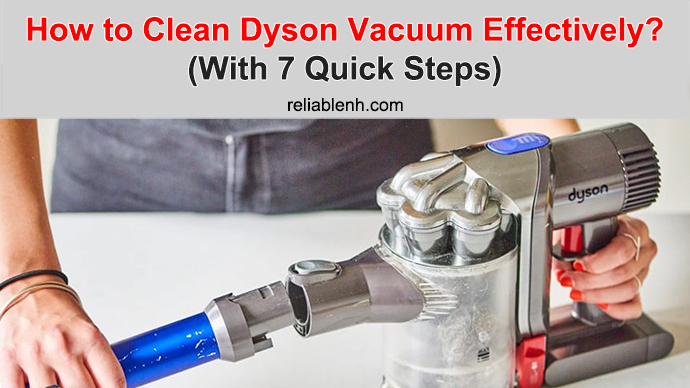 Before starting the cleaning, you need to prepare microfiber cloth, scissors, dish soap, and white distilled vinegar (optional).
Here are some simple steps of cleaning your Dyson vacuum:
1. Unplug the device
For your safety, it's better to unplug your Dyson vacuum from the power socket as soon as you begin the cleaning task. Without unplugging, electric shock may happen, so make sure to protect yourself at first.
You will also feel easier and better doing the cleaning when it's unplugged.
See also: The best Dyson cordless vacuum
2. Empty the canister
The next step is to remove the dust canister.
Whoever having a vacuum cleaner, this is what you usually do after every cleaning mission or when the canister is full. We need to empty all the dirt and remnants collected inside there. As you may know, Dyson vacuums are bagless, so it's better to perform this outside to avoid making your house a mess or if there's any allergic person in your house.
Shake the canister carefully and take out any debris.
Emptying a Dyson vacuum's canister is not as hard as you may think. It can be released with the red button located near the handle. In case you aren't sure, make use of your manual.
You may want to check best self-emptying robot vacuums!
3. Clean the canister
Once the canister is emptied, it's time to wash it. Use the cloth that you've prepared from the beginning to clean the inside of your Dyson vacuum's canister. Remember not to soak it in the water; in addition, you're not allowed to use detergent or any cleaning chemicals.
Some have asked me if it's okay to use compressed air. Well, personally I'm fine with that since it helps remove awkward crevices with ease. However, you need to do this outside.
4. Remove the filter
Now, let's move to the filter while waiting for the canister to dry!
When it comes to vacuum cleaners, filters are considered as one of important components as they are in charge of sucking large particles. All the dust and debris will be kept within the vacuum after each time you clean the house. The large amount of dirt will soon cover and block the filter – that explains why you have to clean it regularly.
Look at the end nearest the handle of your cordless vacuum, and you'll spot its filter. For those who purchase Dyson upright models, then there will be two filters – one is located on top of the canister and one is in the ball of the floor head. No matter how many filters a vacuum has, they all need to be clean thoroughly.
If you're using a canister model, then the filter is found on top of the dustbin.
You can check your manual to know exactly the position of your vacuum's filter, so that the cleaning process can be done effortlessly.
Read more: How to empty Shark vacuums correctly?
5. Wash and dry the filter
As soon as taking the filter out the vacuum cleaner, bring it to the outside and clean the dust stuck on it carefully. I usually tap it gently to remove the majority. Once you finish this step, bring the filter back to the inside and rinse it with cold water.
The easiest way is to put it under the running water and rub it with your hands to make sure all the dirt is washed away.
After that, fill your filter with warm water, use your hands to cover both the openings, and then shake it up and down as a final rinse. Release one hand to let the water run out, and keep doing that until you see the water is clear. Shake the filter one last time to remove the excess and dry it for at least 24 hours.
It's better to put it outside for the air dry instead of using the dryer.
Don't put it back to your vacuum if it's not completely dry!
6. Untangle the brush bar
Don't forget to clean the long hair mess entangled in the brush bar.
In order to remove them, you need to use small scissors and cut along the roll. We advise you not to pull any hairs out, or your vacuum cleaner can be damaged. While trimming, make sure not to break the bristles as well.
Some Dyson models require you to remove the soleplate before accessing the brush bar. In those cases, simply use a flat head screwdriver or a coin. Prepare another microfiber cloth to clean the brush roll box.
7. Check out the hose
If you find that your Dyson vacuum performs as weak as days pass, quickly check the hose as it might be encountering a blockage. After several cleanings, your hose will become clogged, and this could reduce suction strength.
You should remove the hose and see what the case is.
Find something long and thin and try to push it through the hose to clear a blockage. If you don't have that, then soak the hose in a mixture of water and a few drops of white distilled vinegar for 10 minutes. This helps dislodge the blockages. After that, rinse it again with water and let it dry completely.
For stick vacuums, you may want to check the hole between the hose and canister to see whether or not it's blocked.
Check out ways to clean your Dyson V8 cordless vacuum:
Final Thoughts
To end the process of how to clean Dyson vacuum, use a moist microfiber cloth and wipe down its exterior. Don't apply any chemicals on it! Most importantly, your vacuum cleaner must be absolutely dry before being activated again. Keep your eye on the canister – refill it right away once the debris is full.