Thanks to LeapFrog, kids now can learn and play with their very own tablet.
Believe or not, the appearance of LeapPad on the market has brought a very interesting learning experience for our children. With the tablet created just for them, they are able to express their selves while still having fun.
Of course LeapPad cannot provide a vast selection of apps like the iPad, as it is the device tailored for little ones (age 3-8). However, LeapFrog apps ensure the viewing content is 100% safe, well-educated and appropriate.
Access the LeapFrog App Centre and you will find a lot of fun choices for every learning style. Over hundreds of ways are available to play and learn, from educational games to e-books.
Each app is personalized to each child's level, giving suitable lessons as well as challenges to keep children excited.
Here, to lessen parents' confusion, I come with a list of 10 BEST LeapPad apps – these are most chosen by in-house learning experts.
Introduce the top 10 apps available in this article and let your kids pick the ones they really want to play!
Reviews of Top 10 LeapPad Learning Game Apps
1. LeapFrog Adventure Sketchers
Looking for the best free LeapFrog games for 5 year old to 8 year old?
Then firstly, I present LeapFrog Adventure Sketchers – an app in which kids will take part in an epic adventure customized by their own drawings, voice recordings and choices.
The skills your kids learn via Adventure Sketchers will go beyond what they've learned in the traditional school.
Featuring the Infinitely Replayable mode, this educational game includes various elements to make a story like characters, settings, problems and solutions. Children can create and recreate as many challenges as possible for their in-game adventure using their imagination.
All of the drawings and story plots can be saved for future gameplay.
*Note: The in-game microphone is unable to work with Leapster Explorer.
Features:
Draw, color and customize the epic, fantasy adventure in Adventure Sketchers
Do original voice recordings and other sound effects
Develop art & drawings skills in children
Learn about storytelling, story elements, creative expression and story sequence
Compatible with Leapster Explorer and all LeapPad learning tablets
Suitable for ages 5-8 years
2. LeapFrog Learning Game: Barbie Malibu Mysteries
Next, Barbie Malibu Mysteries is one of the best LeapPad games for 4 year olds to 7 year olds.
In this LeapFrog learning game, kids must assist Barbie and her friends in resolving mysteries by making use of their reading and problem-solving skills. Go to Malibu and look for all the missing items (including stylish shoes, cupcakes and other shiny sparkly accessories), gather hints, and seek the evidence in order to find out the culprit.
With the glitter-rific silk-screen machine, children can practice spelling words.
Created by educational experts, Barbie Malibu Mysteries is claimed to have an innovative gameplay that develops preschoolers' literacy skills – the foundation to their future reading success.
*Note: The in-game photo feature is not available in Leapster Explorer.
Features:
Avail reading skills and sleuthing capacity to clear three mysteries, helping Barbie and her buddies
Activate the glitter-rific silk-screen machine by spelling words
Learn spelling, phonics, word sounds and rhymes, as well as listening and reading comprehension
Compatible with the LeapPad learning tablet range, LeapsterGS and Leapster Explorer
Suitable for ages 4-7 years
3. LeapFrog Cooking Recipes On The Road Learning Game
Here comes a game that can fill your hunger for knowledge, kiddos!
Go to LeapFrog Cooking Recipes on the Road and manage the family food truck utilizing mathematics skills. In order to keep the customers happy, children need to follow the in-game recipes – selecting, measuring and weighing, dicing, slicing and mixing ingredients. Perform a good job to earn tips, and then use it to upgrade the food truck.
Play various open-ended mini-games and gain success to turn the family food truck into the city's best restaurant.
With a total of 63 levels, kids will not only improve their current mathematics skills but also learn about fractions, decimals, percentages and more incredible mathematics topics.
This LeapFrog game works compatibly with LeapPad1, LeapPad2, LeapsterGS, LeapPad Ultra, Leappad2 Power and Leapster Explorer systems.
Features:
Following recipes, picking ingredients and cooking best dishes to hungry customers
Complete all featured mini-games by availing mathematics skills
Get to know about volume and weight, multiplication, fractions, temperature, decimals, addition and subtraction
The appropriate age: 5-8 years
4. LeapFrog Learning Game: Get Ready for Kindergarten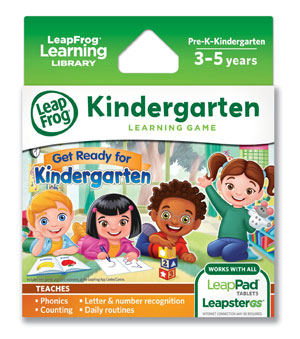 Among all the best LeapPad apps for 3-year old, my ultimate choice will be LeapFrog Get Ready for Kindergarten. Developed by educational experts, this learning game packs with a box of challenges that helps to build children's confidence and competence before starting school.
Enter the jungle and your kids will meet all LeapFrog cute animals like Olive the Owl, Ozzie the Otter, Sylvie the Squirrel, etc.
In Get Ready for Kindergarten, kids will help Mack and Watson the Moth, and Spot the Ladybug return the forest by taking advantage of their reading, mathematics and life skills. Via this app, they can distinguish between the uppercase and lowercase letters, practice solving logic puzzles and write one-digit and two-digit numbers.
For the very end success, your child has to complete three fun adventures.
Features:
The little ones will learn core skills, providing them a good preparation for school – a pack of three games gives them a rich experience in reading, math and life skills
Practice writing letters and numbers (from simple to complex), tracing curved lines and solving logic puzzles as well to level up
Offer basic knowledge like counting, number recognition, handwriting, phonics daily routines, logic and, laying a foundation to the future academic success
Work with all kinds of LeapPad tablets, Leapster Explorer and LeapsterGS
Parent Guide
For children aged 3-5
5. LeapFrog Disney/Pixar Finding Dory Learning Game
Head towards Finding Dory Learning Game of LeapFrog and join Dory on a mathematics-filled adventure in order to look for her family and home. This game app features all of your child's beloved characters from the Disney/Pixar hit animation film – Finding Dory.
Children ages 4 to 7 will make a journey under the sea where they need to practice identifying numbers, addition, shape recognition, subtraction and more.
Throughout 7 mathematic-filled mini-games, kids will explore the attributes of different 3D shapes, guiding hermit crabs to their home. In addition, stretch out colors and shapes' patterns to protect Hank and Dory from being seen. Do not forget to assist Dory in passing through a maze using Bailey's echolocation.
With all the puzzle pieces gathered along the way, the ultimate goal is to put memories of Dory back together.
Features:
Learn math skills include patterns, addition, counting, subtraction, 2D and 3D shape recognition, etc.
Complete a mathematics-filled mission with puzzle pieces to find Dory's memories and lead Dory to her family and home.
Finish sequences and equations by collecting numbers along pipe mazes to support Bailey and Dory
Speak "Whale" with Dory by recording each phrase and listening to it
Feature Microphone and Motion sensor
Compatible with all LeapPad tablets, LeapFrog Epic Academy Edition and LeapFrog Epic
6. LeapFrog Disney Frozen Learning Game
Do your kids the huge fan of Disney Frozen animation film?
If yes, then I recommend you to purchase LeapFrog Disney Frozen Learning Game as a gift for their upcoming birthday.
Installing the app to the LeapPad tablet, children (ages 4-7) will again meet all beloved characters from the hit film. Travel around Arendelle Kingdom and help Elsa, Anna and Olaf the snowman create and deliver spectacular ice sculptures to various different places.
The purpose of the game quests is to warm up kids' reading skills.
By picking an ice sculpture to create, your child will have chances practicing their handwriting and improving their phonics skills. Also, join Olaf in a spelling mini-game (arranging words to complete sentences) and unlock more scenes from the Frozen film.
Features:
Teach kids practice spelling, handwriting, sentence building, grammar and story sequence
Trace letters, spell words and clear more mini-games to unlock scenes
Improve reading skills while helping Frozen's characters build ice sculptures
Rearrange letters from words and create complete sentences
Earn badges to hear a whole story aloud
Works with all LeapPad tablets
The age appropriate: 4 to 7
Interestingly, the LeapFrog Disney Frozen app offers the "Just for Me Learning" technology. Every child has different ways of learning; therefore, there are six learning ways to keep children challenged at the right level.
It includes:
Right-for-Me Starts
My Custom Creations
Press & Teach
Guide & Learn
Adjust-to-Me Learning
Built-to-Grow Levels
7. LeapFrog LeapPad Cartridge PAW Patrol
Why should your child have PAW Patrol: Ready for Action?
In this learning game of LeapFrog, kids will join Ryder and his PAW Patrol on an urgent mission; that's, rescuing lost kittens. How? Use logic and reasoning to pass through all challenging obstacles. Then, practice reading skills and look up new vocabularies to find the lost Robo Dog.
Remember, in order to get the job done in downtown Adventure Bay, children have to pick the right pups and the right tools.
Go to Farmer Yumi's Farm and Jake's Mountain and have a lesson about teamwork.
This PAW Patrol Collection packs with an action game and e-Book.
Features:
15 different missions, and each is packed with 3 different ways to solve…Use teamwork to find and bring lost kitties home
Utilize gadgets as well as paw-some problem-solving skills to support Ryder and the PAW Patrol
Select the right character and tool to overcome various obstacles
Team up with two different pups on every mission and work together to get missions cleared
Learn basic words, sight words, and short and long vowels
Compatible with LeapFrog Epic Academy Edition, LeapsterGS Explorer, Leapster Explorer, and all LeapPad tablets
8. LeapFrog Science Learning Game Disney Octonauts
Octonauts is one of the best LeapPad games for 3-year old. Why? It teaches and helps kids get familiar with the concepts of science at such early ages (3-5). They will soon have knowledge regarding life and ocean science, and ecosystems as well.
Also, the action-packed gameplay takes children to three different ocean zones (Sunlight Zone, Twilight Zone and Midnight Zone) where they can learn about sea creatures in each place.
Here, kids will assist Captain Barnacles and other Octonauts in rescuing sea creatures, passing through obstacles and unlocking new characters.
This LeapPad game app encourages youngsters to understand the fundamentals of science and develop their critical thinking skills.
The exciting underwater adventure in Octonauts not only gives such an immersive learning experience to children but also helps them learn about sea creatures and explore ocean habitats.
Features:
Use Octonauts' underwater microphone to listen to sounds under the sea and identify sea creatures
Enhance problem solving skills
Build critical thinking skills and gain knowledge about ecosystems, ocean science, life science and making observations
Work with all LeapPad learning tablets, Leapster Explorer, and LeapsterGS
9. LeapFrog Crayola Art Adventure Explorer Learning Game
I highly recommend LeapFrog Crayola Art Adventure for parents who want to teach their children about shapes, colors, drawing, art, logic and reasoning.
Suitable for ages 3-7, this learning game offers various ways helping kids discover their artistic talent and develop their critical thinking skills. The app's content is created to meet the younger preschoolers' learning needs.
Kids' mission here is to give the Pip Squeaks a helping hand in solving a puzzling art mystery while exploring a creative world.
All problem solving concepts have simple graphics and a clear, intuitive interface making it easy to follow for any 3-year old children. They can also make use of built-in hint systems and in-game instructions for the support.
Features:
Use Crayola tools to create your own masterpieces
Learn about drawing, colors, art, shapes, logic and reasoning
Put tunes together logically using musical colors
Build logic skills to solve puzzles while searching for the gallery
Match well with all LeapPad learning tablets, LeapsterGS and Leapster Explorer
The appropriate ages to play: children of 3-7 years
10. LeapFrog Pet Pals 2 Learning Game
What do kids have to do in Pet Pals 2 Learning Game for LeapPad?
Amazingly, your child, for the first time, will get a chance explore their own emotions as well as responsibility when adopting a puppy.
By taking care of their pet, they will learn a lot of things including counting numbers, addition, subtraction, emotions and responsibility. Entering a town full of fun and surprises in this game, children need to give their virtual puppy name, treats, and toys, dress it and teach it how to do tricks.
In addition, practice and use mathematics skills to win the dog show.
Features:
Learn about money and enhance mathematic skills
Earn points and dollars for treats and latest fashions for puppies
Explore feelings and emotions of the furry friend
Gain knowledge into responsibility, emotions, counting numbers, addition and subtraction
Suitable for 4 to 7 aged children
Compatible with LeapsterGS, Leapster Explorer and all LeapPad learning tablets
LeapPad Apps Free Download – How?
Seeking a place where your kids can download all kinds of LeapFrog educational apps with ease?
Here comes LeapFrog LeapPad Explorer Creativity App Download Card!
This is an amazing product which helps kids express their creativity and imagination via the LeapPad Explorer tablet.
By using free Leappad apps codes, parents can choose and download a wide range of exciting apps to their child's LeapPad device. The card includes a BONUS app as a special treatment for the buyers.
The card is used to purchase any LeapPad Explorer app and other apps from the LeapFrog App Centre. LeapFrog ensures that its products 100% focus on learning experience effectively, for kids of all ages and around the world.
LeapFrog proved that learning can be such a fun, interesting experience if following the right way. This company comes with the technology called the LeapFrog Learning Path which gives you a help in observing your child's skills while playing LeapFrog and seeing time spent for playing, challenge level and more.
Get the card from today to find the best learning apps matching well with your child's passions.