If you are looking for the best robot vacuum with mopping function, you've come to the right place.
Vacuuming and mopping help you cleaning your home easier and effortless.
Tired of mopping floors by hands?
In the modern day, people are turning to robotic devices and there are plenty of choices to choose from. If you're wondering about the best robot vacuum and mop combo 2023, some reputable brands to consider are iRobot, ECOVACS, and Samsung.
Our pick for today's article is ECOVACS Deebot T8 AIVI, the best robot mop for deep cleaning.
Quick Review of ECOVACS Deebot T8 AIVI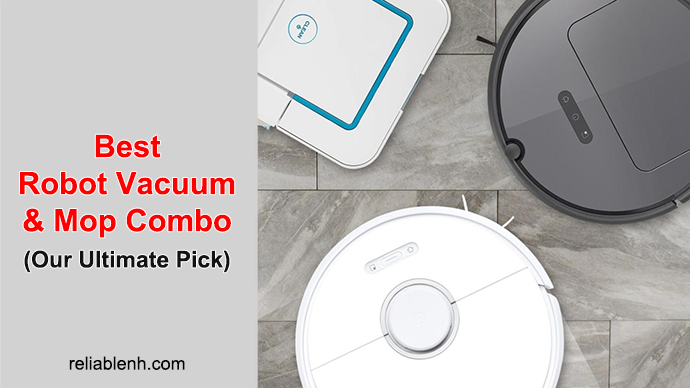 Many say that ECOVACS Deebot T8 AIVI is a robot vacuum on the next level. Not only vacuum, but it can also mop and automatically empty. You can check the house just by using the app; in addition, talking to Google Assistant whenever you want the unit to start cleaning.
See also: ECOVACS Deebot N79S review
What I like:
Powerful suction
High battery capacity
Precise customized cleaning
Smart home compatible
What I don't like:
Hands-on adjustments needed when mopping
This is an all-in-one machine, in general.
Deebot T8 AIVI is one of ECOVACS' newest robot cleaners. What makes it different is that this unit doesn't just vacuum; in fact, it also mops your home and works as a mobile sentry.
It vacuums and mops at the same time. What a great combo!
About the design, it looks just like other robot vacuums from the first glance: black and round. There are two rotating brushes in the front. At the back, you can attach and detach the optional mopping module. Guess what? I'm pretty impressed with its height – less than 10 centimeters; this means it can access underneath most of your furniture for deep cleaning.
To get something more affordable, I suggest Deebot M80 Pro.
Let's have a look at features of Deebot T8 AIVI:
1. What is AIVI?
Many home appliances these days have AI smarts and this Deebot Ozmo T8 robot vacuum is not an exception. According to the manufacturer, AIVI stands for Artificial Intelligence and Visual Interpretation. This technology can help the robot mop dodge over obstacles on the track.
Read more: The best cordless vacuums in 2023
2. The combination of a built-in camera and lidar censor
When the camera works together with the sensor, Deebot T8 AIVI can create an absolutely accurate map of its environment. Also, there's sensor underneath avoiding the robot falling from the stairs. To some users in need of privacy which is understand, ECOVACS offer a cover that can be used to cover adhesive camera lens. The unit still works using the lidar sensor, but it will be slower and less accurate when it comes to recognizing obstacles.
In practice, I realize this robot mop rarely gets stuck. When scheduling it to clean every night for a month, it only got stuck a couple of times from what I observed. All the time it was because strap and strap.
Like I mentioned above, Deebot T8 AIVI has powerful suction. It's not too loud when running at the normal level. When the robot is cleaning on a hard-to-clean surface like rugs, the suction power will increase automatically. I must say two problems in my house are crumbs of food and pet hair, but gladly my robotic cleaner can handle all well.
3. Only mop with water
Despite the fact it can only mop with water (not cleaning liquid), the mopping function still works great. Compared to my previous robot vacuums, Deebot T8 AIVI doesn't give me the squeaky clean feeling. The process of vacuuming and mopping is smooth most of the time.
However, its water tank is not too big.
For those living in larger houses, you need to refill the tank in case you want the robot to clean your home space entirely. Another thing I have to remind you is that the noise level during the mopping is quite loud. So if you're a light sleeper, you definitely don't want to use it in the middle of the night.
4. The 5,200mAh battery
The cleaning duration of Deebot T8 AIVI depends on the size of your home. As for my apartment, it usually takes nearly one hour to clean the living room, kitchen, and hallway outside all the bedrooms. If you worry about the battery life, keep in mind that it's never an issue with this robot vacuum.
ECOVACS equipped a 5,200mAh battery for it and claimed to last up to 200 minutes even when cleaning constantly. In case it is low on battery or has finished the scheduled tasks, your Deebot Ozmo T8 will automatically go back to its docking station for a charge.
5. Emptying the dustbin is easy
Just lift the top panel and you can access the dustbin with ease.
When having a robot vacuum, emptying its dustbin is a must. To make it pop out, you need to lift the top cover. It's quite fiddly to open it though since the filter swings on a hinge and doesn't slide out completely. But after that, the rest of the process is pretty simple. Fortunately, ECOVACS makes a self-emptying charging dock which means using Deebot Ozmo T8 can be more convenient and self-sufficient.
See the two rotating brushes and bottom roller?
They can be removed easily to clean away all the debris, fur, or tangled hair. In addition, you also find an extra filter, an extra set of brush, and a cleaning tool in the package offered by ECOVACS for periodic maintenance.
In Conclusion
So, our pick of the best robot vacuum and mop combo 2023 is none other than ECOVACS Deebot T8 AIVI.
Though the price of this robot cleaner is considered as expensive, its performance is excellent and worth the investment. Don't forget its 2-in-1 function: vacuuming and mopping at the same time. What a bargain!
If you're tired of cleaning after a long day working every day, let this one be your little helper.
Still some features are not mentioned here like the controlling app and two-way microphone; hence, if having any question about this robot mop, leave your comments below.